Ghulam Rasool, Ph.D.
Ghulam Rasool, Ph.D.
Ghulam Rasool, Ph.D.

Assistant Professor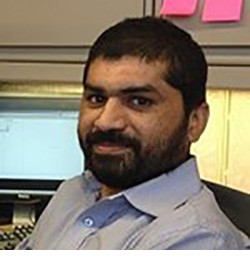 Electrical & Computer Engineering
Contact Info
(856) 256-5379
Engineering Hall 328
Biography
Website: http://users.rowan.edu/~rasool
Education:
Ph.D. - University of Arkansas
Postdoctoral Fellowship - Rehabilitation Institute of Chicago and Northwestern University
Research Expertise: Machine Learning, Control Systems, Estimation, and Statistical Signals Processing, Biomedical Image and Signal Processing
Dr. Rasool is the co-director of Rowan AI Lab (RAIL) and (co-)advises ten PhD and five masters students working in the area of machine learning, artificial intelligence and biomedical image processing. His research is funded by National Science Foundation (NSF), US Department of Education, US Department of Transportation (US DOT), Federal Aviation Administration (FAA), New Jersey Health Foundation (NJHF), Lockheed Martin, and New Jersey Department of Transportation (NJ DOT). He received his Ph.D. in Systems Engineering from University of Arkansas at Little Rock in 2014 and MS in Computer Engineering from Center for Advanced Studies in Engineering (CASE), Pakistan in 2010. He was a postdoctoral fellow at the Rehabilitation Institute of Chicago (RIC) from 2014 to 2016 working in the areas of biomedical image/signals processing, machine learning, and control systems.   
Honors and Awards:
Best Paper Award at IEEE International Workshop on Machine Learning for Signal Processing
NSF I-Corps Team Award 2018   
Professional Memberships:
IEEE
Recent Publications:
Daniel E. Cahall, Ghulam Rasool, Nidhal C. Bouaynaya and Hassan M. Fathallah-Shaykh, "Inception Modules Enhance Brain Tumor Segmentation", Frontiers in Computational Neuroscience 13 (2019): 44. (https://www.frontiersin.org/articles/10.3389/fncom.2019.00044/abstract)
Nesrine Amor, Ghulam Rasool, Nidhal Carla Bouaynaya, and Roman Shterenberg, "Constrained particle filtering for movement identification in forearm prosthesis", Signal Processing 161 (2019): 25-35. (https://doi.org/10.1016/j.sigpro.2019.03.012)
Ghulam Rasool, William Z. Rymer, Allison Wang, and Sabrina Lee, "Shear Waves Reveal Viscoelastic Changes in Skeletal Muscles After Hemispheric Stroke", IEEE Transactions on Neural Systems and Rehabilitation Engineering, 26(10), pp 2006-2014, 2018. (https://doi.org/10.1109/TNSRE.2018.2870155)           
Dimah Dera, Ghulam Rasool, and Nidhal Bouaynaya, "Bayes-SAR Net: Robust SAR Image Classification with Uncertainty Estimation Using Bayesian Convolutional Neural Network", accepted for publication in IEEE International Radar Conference 2020, April 27 - May 1, 2020 Washington DC, USA.
[Best Student Paper Award – First Position] Dimah Dera, Ghulam Rasool, and Nidhal Bouaynaya, "Extended Variational Inference for Propagating Uncertainty in Convolutional Neural Networks", IEEE International Workshop on Machine Learning for Signals Processing (MLSP), October 13-16, 2019 Pittsburgh, PA, USA.