Iman Noshadi, Ph.D.
Iman Noshadi, Ph.D.
Iman Noshadi, Ph.D.

Assistant Professor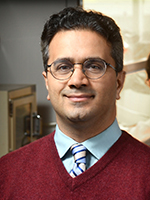 Chemical Engineering
Contact Info
856-256-5364
Rowan Hall 335
Biography
Education:
BSc - Shiraz University, Shiraz, Iran
MS - University Technology Malaysia, JB, Malaysia
Ph.D. - University of Connecticut
Postdoctoral Fellow - Harvard University, Massachusetts Institute of Technology
Research Interests: Physical Sciences; life sciences; organic and hybrid materials; catalyst and biomaterial synthesis
Recent Publications:
Noshadi, B Kanjilal, T Jafari, E Moharreri, N Khakpash, T Jiang, S Suib. Hydrophobic Mesoporous Adsorbent based on Cyclic Amine - Divinylbenzene Copolymer for Highly Efficient Siloxane Removal. RSC Advances. 2016.
Noshadi, B Kanjilal, C Liu, C Qi , F Liu. Efficient and low cost nanoporous carbon based solid acid derived from waste cow manure and their applications for catalyzing biomass transformation. Accepted. Applied Catalysis A. 2015.
Noshadi, S Du , B Kanjilal, GM Bollas , SL Suib, A Provatas, F Liu, RS Parnas. Catalyzed production of biodiesel and bio-chemicals from brown grease using Ionic Liquid functionalized ordered mesoporous polymer. Applied Energy. 2014. 129, 112-122.
Noshadi, NAS Amin, RS Parnas. Continuous production of biodiesel from waste cooking oil in a reactive distillation column catalyzed by solid heteropolyacid: Optimization using response surface methodology (RSM). Fuel 94, 156-164, 2012.
Noshadi, RK Kumar, B Kanjilal, R Parnas, H Liu, J Li, F Liu. Transesterification Catalyzed by Superhydrophobic?Oleophilic Mesoporous Polymeric Solid Acids: An Efficient Route for Production of Biodiesel. Catalysis Letters, 1-6, 2013.