Nichole Daringer, Ph.D.
Nichole Daringer, Ph.D.
Nichole Daringer, Ph.D.

Assistant Professor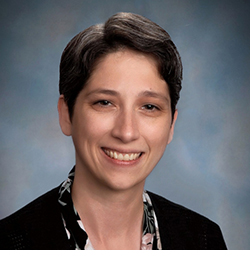 Biomedical Engineering
Contact Info
856-256-5519
Engineering Hall 225/JHSC 313C
Biography
Education:
Post-Doctoral, Massachusetts Institute of Technology, 2014-2019
Ph.D., Chemical & Biological Eng., Northwestern University, 2014
B.S., Chemical & Biochemical Engineering, University of Iowa, 2008
Research Expertise: Synthetic Biology; Immunoengineering

Recent Publications:
Davis L, Recktenwald M, Hutt E, Fuller S, Briggs M, Goel A, Daringer N. Targeting HIF-2α in the Tumor Microenvironment: Redefining the Role of HIF-2α for Solid Cancer Therapy. Cancers. 2022; 14(5):1259.
J.S. Gootenberg, O.O. Abudayyeh, J.W. Lee, P. Essletzbichler, A.J. Dy, J. Joung, V. Verdine, N. Donghia, N.M. Daringer, C.A. Freije, C. Myhrvold, R.P. Bhattacharyya, J. Livny, A. Regev, E.V. Koonin, D.T. Hung, P.C. Sabeti, James J. Collins, F. Zhang. Nucleic Acid Detection with CRISPR-Cas13a/C2c2, Science, 356(6336), 438-442, 2017.

K.A. Schwarz, N.M. Daringer, T.B. Dolberg, J.N. Leonard. Rewiring Human Cellular Input–output Using Modular Extracellular Sensors, Nature Chemical Biology, 13(2), 202-209, 2017.

N.M. Daringer, K.A. Schwarz, J.N. Leonard. Contributions of Unique Intracellular Domains to Switchlike Biosensing by Toll-like Receptor 4, Journal of Biological Chemistry, 290(14) 8764-8777 2015.
Daringer, N. M. N., Dudek, R. M. R., Schwarz, K. a & Leonard, J. N. Modular Extracellular Sensor Architecture for Engineering Mammalian Cell-based Devices. ACS Synth. Biol. 2014.