Ian Dunn and Kayla Sweet Take First and Second Place in the AIChE Student Paper Competition
Ian Dunn and Kayla Sweet Take First and Second Place in the AIChE Student Paper Competition
Ian Dunn and Kayla Sweet Take First and Second Place in the AIChE Student Paper Competition
April 16, 2018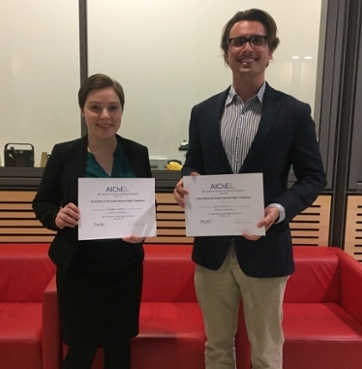 On April 7, 2018, Rowan University chemical engineering students Ian Dunn (Junior) and Kayla Sweet (Senior) took first and second place in the Student Paper Competition at the AIChE (American Institute of Chemical Engineers) Regional Conference held at Princeton University. 
Ian Dunn received first place for his presented work titled Optimization in Chemotherapy Regimens. Coauthor and project advisor is Assistant Professor Kirti Yenkie. His work is a part of the Sustainable Design and Systems Medicine Laboratory (https://yenkiekm.com/) within the CHE department at Rowan University. 
Kayla Sweet received second place for her presented work titled Synthesis & Characterization of Molecularly Hybrid Bisphenols Derived from Lignin & Cashew Nutshell Liquid: Resin and Polymer Properties. Coauthors include Juniors Claire Breyta, Amy Honnig, and Julia Reilly. Project advisors include Alexander Bassett (2nd year CHE graduate student) and Assistant Professor Joe Stanzione. Their work is sponsored by the Army Research Labs and is a part of the Sustainable Materials Research Laboratory (https://www.smrlaboratory.com/) within the CHE department at Rowan University.
Ian and Kayla were among a delegation of over 40 Rowan CHE undergraduate students who participated in the conference.  The mid-Atlantic Region of AIChE encompasses over 30 Chemical Engineering programs extending as far south as Virginia and as far north as Buffalo, NY. Students from all over the region participated in the Student Paper Competition.
First-place winners earn the right to represent their regions at the National Student Paper Competition, held during the AIChE Annual Meeting.  This year's Annual Meeting will be in Pittsburgh, PA, October 28-November 2.
Congratulations to Rowan ChE and its AIChE Student Chapter for representing the Henry M. Rowan College of Engineering well and for a job well done!