Shop Resources
Shop Resources
Mechanical Engineering Shop Facilities
The Mechanical Engineering Shops are specially designed spaces to facilitate hands-on learning through class projects, engineering clinics, and research support. The facilities enable our students to implent the "Design. Build. Test." life cycle used in engineering projects. Shop operations are monitored by two technicians and a team of student lab assistants to maintain a safe, clean working environment.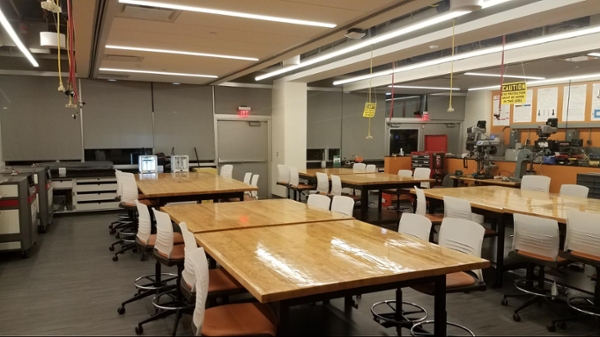 The Projects Lab is the "hub" of the Mechanical Engineering program.  Half of the room has eight maple top project assembly tables while the other side of the room is home to the rapid-prototyping equipment.
The Teaching Lab has four rows of lab benches located towareds the front of the room with air and vacuum hookups at the end of each bench. The rear of the room houses soldering stations and electronic diagnositics and testing equipment.