Message from the Director
Message from the Director
Message from the Director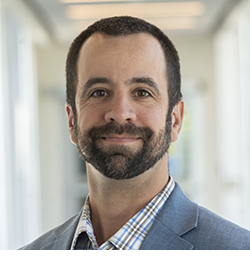 Thank you for your interest in the Advanced Materials & Manufacturing Institute (AMMI) at Rowan University.  AMMI was founded in 2019, establishing an integrated and collaborative home for Rowan's vast research and development efforts in materials science & engineering.  Primarily located at the South Jersey Technology Park at Rowan University, we are a diverse and dynamic group of students, postdoctoral fellows, support staff, faculty, research scientists, and alumni who are passionate about materials, material performance, and global sustainability.  Research, education, and networking are central to our mission.  Our faculty, affiliated faculty, and research scientists direct thriving research programs supporting undergraduate and graduate students and postdoctoral researchers via Junior-Senior Engineering Clinic projects within the Henry M. Rowan College of Engineering, internships, and research fellowships.  We are also actively developing education and training programs focused on advanced manufacturing across all Rowan campuses, including Rowan College of South Jersey, with the state of New Jersey, industry, and non-profits as partners.
AMMI is built upon Rowan University's successes in materials-centric research collaborations with a host of federal agencies and industrial partners; I encourage you to explore our expanding research portfolio.  The mission of AMMI is to advance fundamental and applied science and engineering technology related to materials and manufacturing with the vision to responsibly utilize nature's chemistries, both renewable and fossil reserves, to enhance material performance and improve our global sustainability.  We strive to accomplish our mission and vision through a diverse working environment that educates and trains the next generation of holistically-thinking scientists and engineers.
Our facilities include versatile labs and state-of-the-art characterization and performance testing instrumentation, which is also available for fee-for-service and fixed price opportunities.  Unique to AMMI is its Cold Spray Lab.  This lab is equipped with an automated cold spray additive manufacturing system and custom produced mini cold spray units that allow for revolutionary production, protection, repair and restoration for a wide range of applications; I encourage you to learn more about our facilities.
We thank all our government, industry, and non-profit sponsors for their continued support.  We encourage any and all with an interest in materials and advanced manufacturing to contact us for more information about how we can work together.  Your opportunities are our research and education potentials – by working together we can make a difference.
Again, thank you for your interest in AMMI at Rowan University.  I hope this message inspires you to learn more about and reach out to Rowan University and AMMI.
Joseph F. Stanzione, III, Ph.D.
Associate Professor of Chemical Engineering
Founding Director of AMMI