Gilson Lomboy, D.Eng, Ph.D., P.E.
Gilson Lomboy, D.Eng, Ph.D., P.E.
Gilson Lomboy, D.Eng, Ph.D., P.E.

Assistant Professor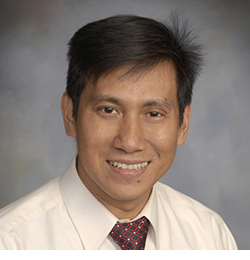 Civil & Environmental Engineering
Contact Info
856-256-5374
Rowan Hall 136
Biography
Education:
Ph.D., Iowa State University
D.Eng., Asian Institute of Technology
M.Eng., Asian Institute of Technology
B.S., Mapua Institute of Technology
Research Expertise:
Concrete durability; Concrete workability and rheology; Concrete nanotechnology (modification and characterization); Special types of concrete: Self-Consolidating Concrete, Ultra-high Performance Concrete, Conductive Concrete; Structural Analysis: Finite Element Methods, Nonlinear analysis of structures, Mechanics of laminate composites
My research projects and clinics include: 3D Printing of Cementitious Pastes; Bio-cementation of sand and clay; Cold Weather Reinforced Concrete; Cold Weather Conductive Concrete; Pressurized Flow in Fractures; Properties of UHPC-HPC Composites; Ternary Blended Concrete with RCA
Honors and Awards:
Iowa State University 2012 Teaching Excellence Award
International road Federation 2011 Road Scholar Program Executive Fellow
Asian Institute of Technology 2000 Three-Term Fellow
Professional Regulation Commission of the Philippines 1995 BSCE Licensure Exam, Fourth Place
Recent Publications:
Murphy G. Lomboy, K. Wang, S, Sundararaj and S, Subramaniam, The rheology of slurries of athermal cohesive micro-particles immersed in fluid: A computational and experimental comparison, Chemical Engineering Science, 193(16):411-420, 2019
G.R. Lomboy, F. Bektas, and K. Wang, Extended Use of Limestone Fines in Various Concretes, Journal of Civil Engineering and Architecture 10(9):995-1005, 2016
G.R. Lomboy and K. Wang, Semi-Flowable Self-Consolidating Concrete and its Application, International Journal of Materials and Structural Integrity, 9(1-3):61-71, 2015.
S.P. Shah and G.R. Lomboy, Future Research Needs in Self-Consolidating Concrete, Journal of Sustainable Cement-Based Materials, DOI:10.1080/21650373.2014.956238, 2014.
Z. Quanji, G.R. Lomboy, K. Wang, Influence of Nano-Sized Highly Purified Magnesium Alumino Silicate Clay on Thixotropic Behavior of Fresh Cement Pastes, Construction & Building Materials, 69:295-300, 2014.