Jess Everett, Ph.D., P.E.
Jess Everett, Ph.D., P.E.
Jess Everett, Ph.D., P.E.

Professor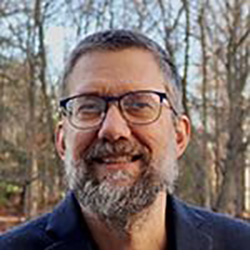 Civil & Environmental Engineering and ExEED
Contact Info
856-256-5326
Engineering Hall 234
Biography
Personal Gender Pronoun: He/Him/His
Website: http://users.rowan.edu/%7Eeverett/
Education:
B.S.E Duke University                        
M.S. Duke University                         
Ph.D. Duke University
Research Expertise:
Sustainable Facilities; Engineering Education; Site Remediation; Solid Waste Management
I direct the Sustainable Facilities Center, part of the Henry M. Rowan College of Engineering. The center helps public and private entities sustainably manage facilities by reducing the environmental, economic, and social impacts of buildings. Current research involves peak electrical demand reduction and interfacing Sustainable Management Systems databases and Building Information Systems. I also study the design and use of on-line web-books with integrated quizzes and homework.
Awards and Honors:
President's Award (as Advisor of GEO), Rowan University, 2008
Professional Memberships:
ASCE (American Society of Civil Engineering)
ASEE (American Society of Electrical Engineering)
Recent Publications:
Everett, J., W. Riddell, C. Moore, S. Valentine, R. Krchnavek (2018) "Client-Oriented Project Based Learning Using Building Audits", Journal of Sustainability Education, 9(11), http://www.susted.com/wordpress/content/2018/12/.

Egbert, P., J. Everett, F. Crockett, S. Farrell, and M. Staehle (2018) "Growing an engineering living and learning community", Global Journal of Engineering Education, 20(1):23-29.

Everett, J., K. Mallouk, J. Morgan (2017) "Pre-defined Roles and Team Performance for First-year Students", International Journal of Learning, Teaching and Educational Research, 16(7):84-101.

Flynn, M., J. Everett, D. Whittinghill (2015) "The impact of a living learning community on first-year engineering students", European Journal of Engineering Education, 41(3):331-341, DOI: 10.1080/03043797.2015.1059408.

Tryner, J., J. Everett, H. Zhang (2015) "Household scale peanut shell briquette production", Boiling Point, 65:37-40.