Ken Lau, Ph.D.
Ken Lau, Ph.D.
Ken Lau, Ph.D.

Chemical Engineering Professor and Department Head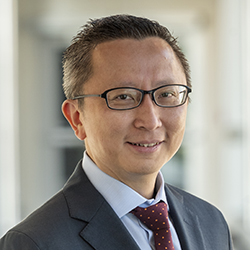 Chemical Engineering
Contact Info
856-256-5312
Rowan Hall 311
Biography
Education:
Postdoctoral Associate, Massachusetts Institute of Technology
Ph.D., Chemical Engineering, Massachusetts Institute of Technology
B.Eng., Chemical Engineering, National University of Singapore

Research Expertise:
Polymer Thin Films and Devices, Energy Capture, Energy Storage, Supercapacitors, Batteries, Interfacial Engineering, Surface Modification, Chemical Vapor Deposition

Research program focuses on chemical vapor deposition (CVD) approaches to create polymer thin films and coatings for applications in renewable energy (photovoltaics, supercapacitors, batteries), biomedicine (implants, hydrogels, smart release, biocompatibility), sensors (piezoresistivity), and surface/interfacial engineering (superhydrophilicity, superhydrophobicity, superomniphobicity, patterning, self-assembly). Research applies fundamental principles of chemical engineering thermodynamics, heterogeneous nucleation, and reaction kinetics to achieve unique polymer behavior and properties at the nanoscale and in confinement.

Honors and Awards:
DoEd GAANN Director (2019–2022)
NSF CAREER Award (2008)

Professional Memberships:
AIChE (American Institute of Chemical Engineers)
ACS (American Chemical Society)
MRS (Materials Research Society)
Sigma Xi

Recent Publications:
Zhao, S.; Liu, T.; Wang, J.; Bello, I.T.; Zuo, Y.; Wei, M.; Wang, K.; Lau, K.K.S.; Ni, M.; Chemical Engineering Journal. " Anti-CO2 Strategies for Extending Zinc-Air Batteries' Lifetime: A Review."  2022. DOI: 10.1016/j.cej.2022.138207.

Chen, Z.; Nguyen, T.H.; Rumrill, S.M.; Lau, K.K.S.; Advanced Materials Interfaces. " One-Step Bottom-Up Growth of Highly Liquid Repellent Worm-Like Surfaces on Planar Substrates."  2022. DOI: 10.1002/admi.202101961.

Rumrill, S.M.; Agarwal, V.; Lau, K.K.S.; Langmuir.  "Conformal Growth of Ultrathin Hydrophilic Coatings on Hydrophobic Surfaces Using Initiated Chemical Vapor Deposition."  2021. DOI: 10.1021/acs.langmuir.1c00918.

Muralter, F.; Coclite, A.M.; Lau, K.K.S.; Advanced Electronic Materials.  "Oxidative Chemical Vapor Deposition of Conducting Polymer Films on Nanostructured Surfaces for Piezoresistive Sensor Applications."  2020. DOI: 10.1002/aelm.202000871.

Xu, G.-L.; Liu, Q.; Lau, K.K.S.; Liu, Y.; Liu, X.; Gao, H.; Zhou, X.; Zhuang, M.; Ren, Y.; Li, J.; Shao, M.; Ouyang, M.; Pan, F.; Chen, Z.; Amine, K.; Chen, G.; Nature Energy.  "Building Ultraconformal Protective Layers on Both Secondary and Primary Particles of Layered Lithium Transition Metal Oxide Cathodes."  2019. DOI: 10.1038/s41560-019-0387-1.