Smitesh Bakrania, Ph.D.
Smitesh Bakrania, Ph.D.
Smitesh Bakrania, Ph.D.

Associate Professor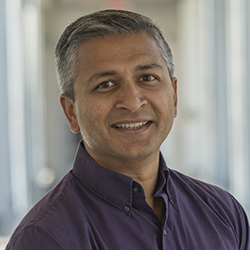 Mechanical Engineering
Contact Info
856-256-5316
Rowan Hall 132
Biography
Personal Gender Pronoun: He/Him/His
Education:
Ph.D., University of Michigan, 2008
M.S., University of Michigan, 2005
B.S., Union College, 2003
Research Expertise: Engineering Education Research, Combustion synthesis of nanoparticles, Material Characterization, Nanocatalytic Combustion

Research Narrative:
My research lies at the intersection of combustion and nanotechnology. My recent work focusses on nanocatalytic combustion. I am also passionate about engineering education and have developed a number of mobile apps to support that mission. I continue to pursue research in engineering education.

Honors and Awards:
Fulbright Scholar 2018                                              
Teaching Wall of Fame 2012, 2017, 2019, 2020
Advising Wall of Fame 2015, 2019
Professional Memberships:
ASEE
ASME

Recent Publications:
Bakrania, S.D., "A visual approach to teaching properties of water in engineering thermodynamics," Advances in Engineering Education (2019). in-print.

Michel, T.R., Capasso, M.J., Cavusoglu, M.E., Decker, J., Zeppilli, D., Zhu, C., Bakrania, S.D., Kadlowec, J.A., Xue, W., Evaluation of porous polydimethylsiloxane/carbon nanotubes (PDMS/CNTs) nanocomposites as piezoresistive sensor materials, Microsystem Technologies, (2019) https://doi.org/10.1007/s00542-019-04636-4

Guggila, B.P.R., Rusted, A., and Bakrania, S.D., "Platinum nanoparticle catalysis of methanol for thermoelectric power generation," Applied Energy, 237 (2019) 155-162.

McNally, D., Agnello, M., Pastore, B., Applegate, J., Westphal, E., and Bakrania, S.D., "A study of fuel and reactor design for platinum nanoparticle catalyzed microreactors," Journal of Nanomaterials (2015), 538752.

Bakrania, S.D., "Rubric-based Grading App for the iPad," Computers in Education Journal, ASEE, Vol. 25, No.1, January - March (2014) Issue.