Vince Beachley, Ph.D.
Vince Beachley, Ph.D.
Vince Beachley, Ph.D.

Associate Professor and Graduate Coordinator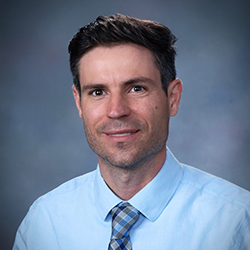 Biomedical Engineering
Contact Info
856-256-5329
Engineering Hall 232
Biography
Website: https://beachleyfiberlab.com/​
Education:
BS - Engineering Science and Mechanics (Virginia Tech)
Ph.D. - Bioengineering (Clemson University)
Postdoctoral Fellowship - Translational Tissue Engineering Center - Johns Hopkins School of Medicine
Research Expertise: Nanofabrication & processing; polymer nanofiber engineering; biomaterials; tissue engineering; nanofiber/matrix composites
Dr. Beachley has research interests in nanofabrication, tissue engineering, biomaterials, and nanofabrication. The primary focus of his laboratory is polymer nanofiber engineering, polymer nanofiber embedded composite materials and applications of nanofiber and composite materials in biomedical and other applications. His research focus on innovation and translational technologies has lead to several issued and pending patents related to nanofiber assembly and high throughput tools for analyzing cell-biomaterial interactions.
Recent Publications:
J. Gabriel, D. Brennan, J. Elisseeff, V. Beachley. Microarray Embedding/Sectioning for Parallel Analysis of 3D Cell Spheroids, Scientific Reports, 9(1), 1-10, 2019.

D. Jao, V. Beachley. Dual-Track Fabrication of Polymer Micro-/Nanofibers Based on Direct Drawing, ACS Macroletters, 8, 588-595, 2019.

D. Brennan, K. Shirvani, C. Rhoads, V. Beachley. Characterization of Post-Drawn Electrospun Polyacrylonitrile (PAN) Nanofibers, MRS Communications, 5, 1-9, 2019.

A. Conte, K. Shirvani, H. Hones, A. Wildgoose, R. Najjar, X. Hu, W. Xue, V. Beachley. Effects of post-draw processing on the structure and functional properties of Electrospun PVDF-HFP nanofibers, Polymer, 171, 192-200, 2019.

D. Brennan*, A. Conte*, G. Kanski, S. Turkula, X. Hu, M. Kleiner, V. Beachley. Mechanical Considerations for Electrospun Nanofibers in Tendon and Ligament Repair, Advanced Healthcare Materials, 7(12), 1701277, 2018.