Wei Xue, Ph.D.
Wei Xue, Ph.D.
Wei Xue, Ph.D.

Associate Professor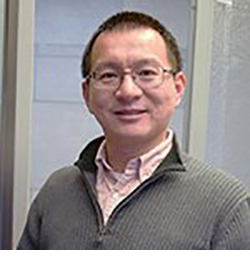 Mechanical Engineering
Contact Info
856-256-5358
Rowan Hall 227
Biography
Website: http://users.rowan.edu/~xuew/
Education:
BS - Electrical Engineering (Shandong University, Jinan, China)
MS - Electrical Engineering (Shandong University, Jinan, China)                               
Ph.D. - Mechanical Engineering (University of Minnesota)
Research Expertise: Sensors and Sensing Materials; Composites; MEMS/NEMS; Micro- and Nano-electronics; Nanotechnology; Nanomaterials; Wearable Electronics
Our group studies materials, devices, and systems at the micro- and nano-scale. Our primary research interests are in the areas of polymer composites, nanomaterials, microsensors, wearable electronics and sensors, and nanotechnology. Our group has been investigating nanoparticle-enhanced polymers as cryogenic dielectrics, functional nanomaterials as sensors and energy harvesters, and flexible electronics and sensors for healthcare applications.
Professional Memberships:
ASME (American Society of Mechanical Engineers)                              
IEEE (Institute of Electrical and Electronics Engineers)
Recent Publications:
Taissa R. Michel, Michael J. Capasso, Muhammet E. Cavusoglu, Jeremy Decker, Danilo Zeppilli, Cheng Zhu, Smitesh Bakrania, Jennifer A. Kadlowec, and Wei Xue, "Evaluation of porous polydimethylsiloxane/carbon nanotubes (PDMS/CNTs) nanocomposites as piezoresistive sensor materials", Microsystem Technologies, Accepted and In Press, 2019.

Michael McCaffrey, Harrison Hones, Jordan Cook, Robert Krchnavek, and Wei Xue, "Geometric analysis of dielectric failures in polyimide/silicon dioxide nanocomposites," Polymer Engineering and Science, Vol. 59, Issue 9, pp. 1897-1904, September 2019. 

Adriano A. Conte, Khosro Shirvani, Harrison Hones, Alexander Wildgoose, Xue Ye, Raghid Najjar, Xiao Hu, Wei Xue, Vince Z. Beachley, "Effects of post-draw processing on the structure and functional properties of electrospun PVDF-HFP nanofibers," Polymer, Vol. 171, pp. 192-200, May 2019. 

Raghid Najjar, Yi Luo, Dave Jao, David Brennan, Ye Xue, Vince Beachley, Xiao Hu, and Wei Xue, "Biocompatible silk/polymer energy harvesters using stretched poly (vinylidene fluoride-co-hexafluoropropylene) (PVDF-HFP) nanofibers," Polymers, Vol. 9, No. 10, p. 479, September 2017. 

Andrea De Vellis, Dmitry Gritsenko, Yang Lin, Zhenping Wu, Xian Zhang, Yayue Pan, Wei Xue, and Jie Xu, "Drastic sensing enhancement using acoustic bubbles for surface-based microfluidic sensors," Sensors and Actuators B: Chemical, Vol. 243, pp. 298-302, May 2017.