Introducing Dr. Antonios Kontsos, the inaugural Henry M. Rowan Foundation Professor and director of the Digital Engineering Hub
Introducing Dr. Antonios Kontsos, the inaugural Henry M. Rowan Foundation Professor and director of the Digital Engineering Hub
Introducing Dr. Antonios Kontsos, the inaugural Henry M. Rowan Foundation Professor and director of the Digital Engineering Hub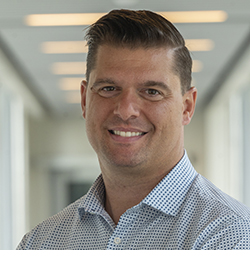 September 4, 2023
Antonios Kontsos, Ph.D., joins the Henry M. Rowan College of Engineering as the Henry M. Rowan Foundation Professor and the inaugural director of the newly established Digital Engineering Hub (DEHub), effective Sept. 1, 2023. The Henry M. Rowan Foundation Professorship is the first of its kind at Rowan University and Kontsos will be the first to hold such a position. Kontsos previously spent 14 years as a professor in the Mechanical Engineering & Mechanics Department at Drexel University where he established and was the director of the Theoretical and Applied Mechanics Group.

"We are thrilled to welcome Dr. Antonios Kontsos to the college. We eagerly anticipate the college's expansion and the opportunities it brings, including the enhancement of research activities, the establishment of the inaugural Henry M. Rowan Founding Professorship, and meaningful industry collaborations, as we strive to be an economic engine for the state of New Jersey and the region," remarked Dr. Giuseppe Palmese, dean of the Henry M. Rowan College of Engineering.

The DEHub is a cutting-edge integrated technology center for the research, education and practice of emerging digital engineering methods. The center will focus on industry and government collaborations while forming an access hub to Rowan-wide resources in this research field. DEHub activities will be supported by faculty, staff and students across the Henry M. Rowan College of Engineering and Rowan University, and it will be headquartered at the heart of Rowan's main campus in Glassboro, N.J. The center will utilize a suite of existing and new equipment and facilities related to both fundamental and applied research in the area of materials and structures with applications in manufacturing, defense, aerospace, energy, and biomedical engineering.

"I am excited to help lead Rowan University and the Henry M. Rowan College of Engineering to create pathways that will allow the development of digital transformation methods for engineering applications," Kontsos said. "We are all excited to launch DEHub, and we are thrilled with the possibilities that exist in the state of New Jersey, in our region and in our country to become a first-of-its-kind integrated technology center where digital engineering methods will be researched, taught, practiced and translated to market solutions."

Kontsos launches DEHub with two active research projects. The first leverages digital design and manufacturing technologies to 3Dprint metals at Rowan for the first time utilizing state-of-the-art, industry-grade methods. DEHub's second area of research focuses on intelligent sensing for diagnostics and prognostics with applications in real-time predictions of material behavior across length scales.

Kontsos' primary research interest is in the theoretical, experimental, and computational investigation of the mechanical behavior of materials. In his research, he defines microstructure-properties-behavior relations using methods that involve theory, experiments, modeling, and simulations. He further applies these methods for the identification of damage by quantifying evolving material states as a function of applied loading and the operational environment.

Kontsos received his undergraduate five-year diploma in mechanical engineering and aeronautics from University of Patras in Greece in 2002, and his M.S. (2005) and Ph.D. (2007) degrees in mechanical engineering and materials science from Rice University in Houston, Texas. Prior to joining Drexel in 2009, Kontsos held a post-doc and lecturer position at the Center for Mechanics of Solids, Structures and Materials in the Aerospace Engineering & Engineering Mechanics Department at the University of Texas at Austin.

Kontsos has authored or co-authored over 150 journal articles and conference proceedings. He has co-edited three book chapters and holds three patents. He was awarded the Office of Naval Research's Young Investigator Award and the American Society of Mechanical Engineers (ASME) Student Section Advisor Award in 2014. He is currently serving as the president-elect of Pi Tau Sigma, the National Mechanical Engineering Honors Society. His research has received more than $16 million of funding from government, industry, and educational sources, and he has supervised 14 Ph.D. and 12 master's students as their primary advisor.