Prospective Students
Prospective Students
Prospective Students
The Rowan University Chemical Engineering Program is a student-centered undergraduate and graduate program that incorporates leading-edge educational and research methods and technology with engineering practice. We prepare students for careers in the global chemical process industry and related fields, and for advanced degree study and advanced degree professions. Our program provides students with a strong foundation in chemical engineering science and design, and emphasizes the development of effective communication and teaming skills, and professional responsibility in preparation for a career in a diverse global workforce. Throughout the curriculum, students are exposed to chemical engineering methods using hands-on, state-of-the-art experiments, modern computer tools, and problem synthesis and solution approaches. The Chemical Engineering Program is committed to technical excellence, professional responsibility, and lifelong learning.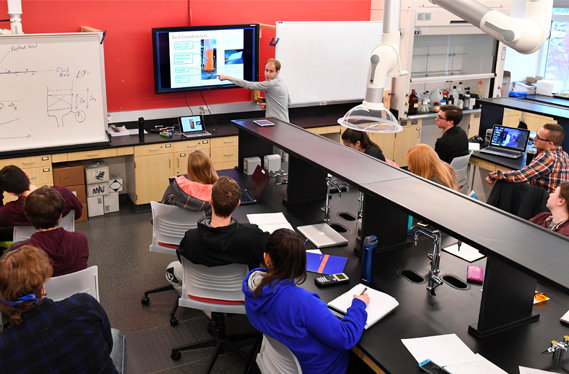 B.S in CHE
Our chemical engineering undergraduate program is a student-centered program that incorporates leading-edge educational methods and technology with engineering practice. Read more about the BS in Chemical Engineering program.
AIChE Student Chapter
AIChE is the world's leading organization for chemical engineering students and professionals. The Rowan University AIChE Chapter is a student run chapter that promotes professionalism, engineering education, and strong relationships between faculty and students.
Engineering A Better Future with Newly Designed Bio-Based Plastics
At Rowan, as an undergraduate you will be working on the frontier of innovation.
Rowan alumni Brighid Hoempler, '12, speaks to why Rowan was a difference maker for her.