Francis (Mac) Haas, Ph.D.
Francis (Mac) Haas, Ph.D.
Francis (Mac) Haas, Ph.D.

Associate Professor and ME Graduate Program Chair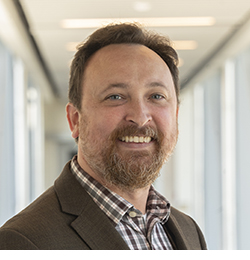 Mechanical Engineering, Chemical Engineering (Affiliated)
Contact Info
Rowan Hall 215
Biography
Personal Gender Pronoun: He/Him/His 
Graduate Program Inquiries: mechegrad@rowan.edu
Institutional Research Affiliations: 
Advanced Materials and Manufacturing Institute (AMMI)
Sustainable Facilities Center (SFC)
Education:
Ph.D., Mechanical and Aerospace Engineering, Princeton University
M.S., Mechanical Engineering and Mechanics, Drexel University
B.S., Environmental Engineering, Drexel University
B.S., Chemical Engineering, Drexel University
Research Expertise: Thermal-Fluid Sciences; Chemically Reacting Flows; Gas Phase Fuel and Pollutant Chemistry; Additive Manufacturing
With a background in thermal-fluid sciences that cuts across diverse disciplines, Dr. Haas pursues research in advanced manufacturing, biomedical device development, and process safety.  Lately, his focus has turned to improving both the fundamental physical understanding and applications space of direct-write additive manufacturing processes, with particular emphasis on cold spray additive manufacturing of high-performance polymers and polymer composites.
Professional Memberships:
ACS (American Chemical Society)
ASEE (American Society for Engineering Education)
ASME (American Society of Mechanical Engineers)
The Combustion Institute
Research Profiles:
Google Scholar
ORCiD
Research Gate
Recent Publications:
I.A. Anni, M. Kaminskyj, K.Z. Uddin, T.W. Bacha, N.K. Singh, J.F. Stanzione III, F.M. Haas, and B. Koohbor. "Cold spray deposition of nylon-6 on glass fiber-reinforced composites." ACS Applied Engineering Materials, 1, 2324, (2023). https://doi.org/10.1021/acsaenm.3c00367

T.W. Bacha, D.A. Brennan, Ü. Tiitma, I. Nault, F.M. Haas, and J.F. Stanzione III. "Effects of powder feedstock pre-heating on polymer cold spray deposition." Journal of Thermal Spray Technology, 32, 488, (2023). https://doi.org/10.1007/s11666-023-01549-7

A. Gangineri Padmanaban, T.W. Bacha, J. Muthulingam, F.M. Haas, J.F. Stanzione III, B. Koohbor, J.-H. Lee. "Molecular-weight-dependent interplay of brittle-to-ductile transition in high-strain-rate cold spray deposition of glassy polymers." ACS Omega, 30, 26465 (2022). https://doi.org/10.1021/acsomega.2c02419

T.W. Bacha, N.K. Singh, I.M. Nault, B. Koohbor, F.M. Haas, J.F. Stanzione III. "Thermal gradients govern impact dynamics in thermoplastic polymer cold spray." Journal of Thermal Spray Technology, 30, 2034 (2021). https://doi.org/10.1007/s11666-021-01271-2

R. Nazari, H. Alfergani, F.M. Haas, M.E. Karimi, M.G.R. Fahad, S. Sabrin, J. Everett, N. Bouaynaya, R.W. Peters. "Application of satellite remote sensing in monitoring elevated internal temperatures of landfills." Applied Sciences, 10, 6801 (2020). https://doi.org/10.3390/app10196801

C.H. Cho, K.R. Han, C.H. Sohn, and F.M. Haas. "Sooting Propensity Estimation of Jet Aviation Fuel Surrogates and Their n-Alkane Components by the Virtual Smoke Point Method." Energy & Fuels, 34, 15072 (2020). https://doi.org/10.1021/acs.energyfuels.0c02588