Stephanie Farrell, Ph.D.
Stephanie Farrell, Ph.D.
Stephanie Farrell, Ph.D.

Experiential Engineering Education Professor and Founding Department Head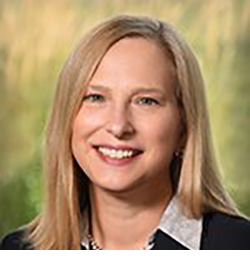 Experiential Engineering Education Department
Contact Info
856-256-5315
Engineering Hall 134
Biography
Personal Gender Pronoun: She/Her/Hers
Education:
Ph.D., Chemical Engineering, New Jersey Institute of Technology, 1996
M.S., Chemical Engineering, Stevens Institute of Technology, 1992
B.S., Chemical Engineering,University of Pennsylvania, 1986
Research Expertise:
Inclusive pedagogy; diversity, equity, and inclusion in engineering; communities of practice             
Using a cycle of research, education and advocacy, I am committed to increasing the participation of groups that have been historically underserved in engineering education.        
Honors and Awards:
William Corcoran Award, ASEE, 2022
       For the best paper published in the Journal Chemical Engineering Education

Fellow Member, AIChE, 2021

AIChE IDEAL Star Award, 2021
       For promoting inclusion, diversity, equity, anti-racism and learning in chemical engineering.

Rowan University Excellence in Diversity for a Group Project Award, 2021
       For development of the Inclusive Pedagogies and Practices Certificate Program (team award)

Rowan University Employee Recognition Award for Inclusivity, 2021

Award for Service to Chemical Engineering Education, AIChE, 2020

Nikolai Tesla Award for International Engineering Pedagogy, International Society for Engineering Pedagogy, 2018

Sonia Sotomajor Award for Social Justice, Rowan University, 2017

Best Diversity Paper at the ASEE Annual Conference, 2017

Excellence in Diversity Award for Scholarship, Rowan University, 2016

Fellow, American Society for Engineering Education, 2014

Honoris Causa, International Engineering Education, Internationale Gesellschaft für Inginieurpädagogik (IGIP) 2012

NETI Fellow, ASEE National Effective Teaching Institute, 2010
       Selected as a rising leader in engineering education to co-conduct this three-day workshop with Rich Felder, Rebecca Brent and Mike Prince

ASEE Quinn Award, 2005
       National award for leadership in engineering education, developing a program that exhibits innovation, relevance to the real world, experiential learning and student motivation

ASEE National Outstanding Teaching Medal, 2004
       National award for outstanding classroom performance, teaching scholarship and professional activity

Distinguished Teaching Award, awarded by ASEE Mid-Atlantic Section, 2003
       Regional award or teaching performance and contributions to the profession

Raymond W. Fahien Award, awarded by the ASEE Chemical Engineering Division, 2002
       For vision and contribution to chemical engineering education

ASEE Zone Campus Representative Award, 2002

ASEE Section Outstanding Campus Representative Award, 2002

J.J. Martin Best Paper Award, ASEE Chemical Engineering Division, 2001        
Professional Memberships:
American Society of Engineering Education (Fellow and Past President)
International Federation of Engineering Education Societies (President 2022-2024)
AIChE (Fellow)
Recent Publications:
Hughes, B. E., Cross, K. J., & Farrell, S. (2022). What do we know and why should we support queer and trans people in STEM? In K. J. Cross, B. E. Hughes, & S. Farrell (Eds.), Queering STEM Culture in US Higher Education: Navigating Experiences of Exclusion in the Academy. Routledge.

Jahan, K., Farrell, S., Hartman, H., & Forin, T. R. (2022). Integrating Inclusivity and Sustainability in Civil Engineering Courses. International Journal of Engineering Education, 38(3), 727-741.

Farrell, S., A. Godwin, and D.M. Riley, A Sociocultural Learning Framework for Inclusive Pedagogy in Engineering. Chemical Engineering Education, 2021. 55(4): p. 192-204.

Jahan, K., C. Bodnar, S. Farrell, Y. Tang, I. Noshadi, C. S. Slater, D. Miller, Improving Students' Learning Behaviors Through Hands-On Algae Based Project, International Journal of Engineering Education, 35(5), 1343-1352, 2019.

Hartman, H., T. R. Forin, B. Sukumaran, S. Farrell, P. Bhavsar, K. Jahan, et al., Rethinking Engineering Diversity, Transforming Engineering Diversity (REDTED), Journal of Professional Issues in Engineering Education and Practice, 145(2), 2019.