3D-printed face mask
3D-printed face mask
Reusable 3D-printed face mask
As the COVID-19 pandemic increased demand for PPE in early 2020, Rowan University faculty and students responded to a hospital's request for help by designing a reusable face mask that could be produced by anyone with a 3D printer. The project met immediate needs with hundreds of masks printed by volunteers. By late spring, the success of the project led to a collaboration to refine the design and professionally produce thousands.
A global effort
Rowan engineering and medical students developed a prototype for a durable, lightweight, reusable face mask. Further refined after feedback from users around the world, the designs shared here are provided "as-is." It is not a replacement for N95 masks.
Developed in collaboration with medical professionals, the mask may serve in clinical and field use. If printed, used and maintained correctly, the mask provides a mechanical barrier.
Ease of assembly and use
The 3D-printed design contains two components: a contoured body and a filter housing. No special tools are needed for assembly. The replaceable nonwoven filter materials recommended for the filter housing are widely available. Users will supply and install the elastic or cord.
The mask can be printed in three sizes, all with the same size filter housing. The contoured mask may be more closely molded to the user's face by submerging the edges in hot water and pressing it to reform the shape against the face. 
Downloadable resources
Assembly, use and disinfection instructions (PDF)
3D fabrication instructions (PDF)
NEW - V4 Masks and Filter - Greatly improved breathability, larger strap holes, and nose notch for those who wear glasses.
The following STL files must be downloaded into 3D printing software:
Helpful information about printing the Rowan face mask
Questions or feedback?
Please visit our survey site: go.rowan.edu/3Dprintedmasksurvey
Email us at rowan3dprintedmask@rowan.edu
Disclaimer and License Information
(Full information provided on downloadable PDFs) 
Disclaimer

The mask information is provided as research information only and has not been tested for commercial use. The design and masks made from the design have NOT been tested or approved pursuant to FDA, OSHA, or NIOSH standards. The mask Information is experimental in nature and the safety or efficacy for use in humans has not been proven or tested. Users should make every effort to use an available N95 mask if feasible.  
This design is for an adult mask. 
License

Information is provided with permission for the recipient to freely use, copy and modify without restriction in accordance with the Creative Commons License. 
Reusable 3D-Printed Adult Face Mask: (Easy-to-print, filter required) by lafactoria3dis licensed under the Creative Commons-Attribution license.  By downloading this item, you agree to abide by the license: Creative Commons – Attribution – Non-Commercial – No Derivatives
Mass production: Rowan's reusable face mask
The Rowan University and its private industry partners are also producing 50,000 reusable face masks for distribution. Based on Rowan's 3D-printed version, the masks are lightweight, durable and made in New Jersey.
Rowan will coordinate with regional emergency management agencies to distribute masks to area hospitals and first responders. The University also will distribute the masks to its two medical schools, Rowan Medicine clinical practices, and affiliated hospitals, as well as its research labs and students.
The mask body is made from Santoprene TPV, an American-made, high-performance plastic donated by ExxonMobil. Tri-Tech Tool & Design (South Bound Brook, N.J.) donated the steel injection mold to make the mask bodies, as well as the engineering expertise and labor needed to convert the 3D-printed mask into an injection molded design. Precision Laser Technology (Rochester, N.Y.) donated laser engraving for the mask face.
Rowan University Foundation provided additional funding to complete the project, including costs for the melt-blown polypropylene filter material and elastic bands. Abilities Solutions (Westville, N.J.) and its neurodiverse workforce assembled, packaged and warehoused the 50,000 masks at cost.
Provided fully assembled and ready to use, the mask provides a mechanical barrier. It is not a replacement for N95 masks.
To reuse the mask, users can disinfect the reusable parts and replace the filter material as necessary with new, nonwoven material such as an allergy reduction filter or coffee filter sandwiched between fabric layers. Avoid using HEPA filters used for furnaces or HVAC equipment, vacuums, etc; they may contain fiberglass, which can be an inhalation hazard.
Global feedback on Rowan's 3D-printed design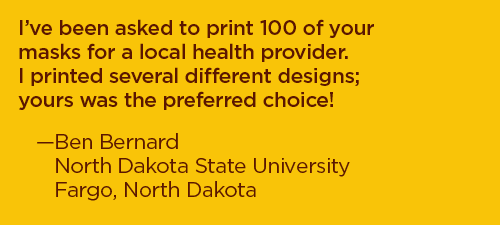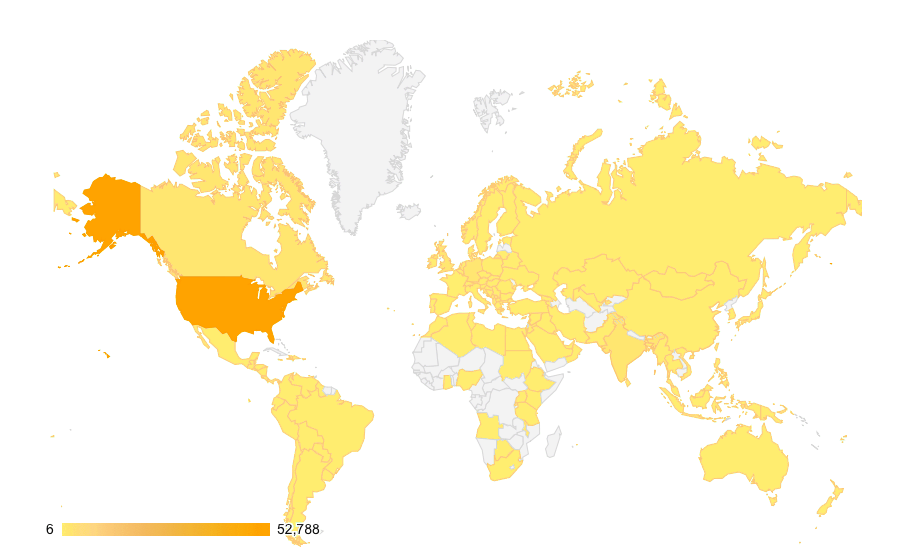 Users from at least 144 countries around the world visited Rowan's 3D-printed face mask page and downloaded the designs about 50,000 times.