Rowan BioMedical NSF REU
Rowan BioMedical NSF REU
NSF Research Experience for Undergraduates (REU) Site in Biomedical Materials, Devices, Therapeutics, and Emerging Frontiers
Dates
May 21 - July 30, 2019
Application Deadline: March 15, 2019. 
Application
REU Site Overview
The NSF REU site at Rowan University will provide research experiences for a diverse group of undergraduate participants from four-year institutions and community colleges. REU participants will conduct novel, cutting-edge research under the direction of faculty mentors from three colleges - the Henry M. Rowan College of Engineering, the College of Science and Mathematics, and Rowan's Cooper School of Medicine - and eight academic departments, with the Department of Biomedical Engineering as the lead. Students will participate as a group in weekly seminars and workshops that provide comprehensive professional development and allow cross-cultivation of the individual research experience.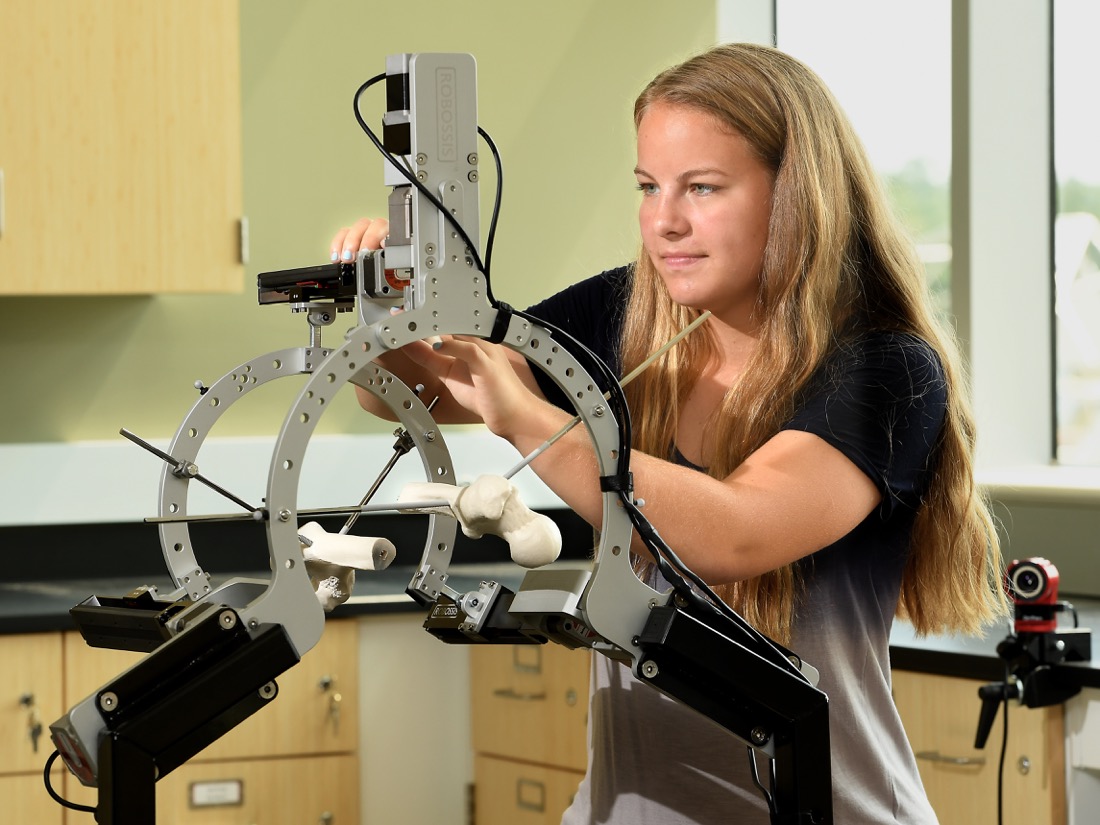 This REU Site will advance the field and prepare students for future advanced careers in engineering and science relevant to medicine and healthcare and provide a holistic experience for development of strong research skills. Research projects will include biomaterials and tissue engineering, micro/nano systems and device development, regenerative medicine, nanoparticle development, personalized medicine, medication development and evaluation, and biomolecule detection.
How to Apply
To apply, upload the complete application package consisting of the following documents:
Financial Support
$5,000 for the 10-week session
Housing Stipend (Campus Apartment Residences)
Faculty Mentors
The program involves faculty mentors from three Colleges – The Henry M. Rowan Collage of Engineering, The College of Science and Mathematics, and Rowan's Cooper School of Medicine, and includes various academic departments, such as Biomedical Engineering, Biomedical Sciences, Chemical Engineering, Biochemistry, Chemistry, Physics, Mechanical Engineering, and Biological Sciences.
Number of Undergraduate Particpants per Year
10 students will participate in a 10-week session during the summer
Representative Project Titles
Mechanical Characterization of Conduits for Spinal Cord Repair 
Identifying Multiple Signaling Pathways in the Response to Hypoxia: Toward a Therapeutic Approach to Cancer
Stromal-Immune Cell Interactions in Artificial Lymphoid Organs
Micro/Nano Systems and Device Development 
Biomaterials and Tissue Engineering: Novel Materials for Medicine
Medication Development for Neuropsychiatric Disorders 
Surface Modified Polymeric Nanoparticles For Drug Delivery and Targeting
Protein-based Functional Materials
Development of Biomimetic Adhesive Tissue Engineering Scaffolds for Intervertebral Disc Repair
Solid-state Nanopore Fabrication and Robust Detection of Biomolecules
Characterization of Human Adipose Derived Stem Cells in Wound Healing
Thin Film Medical Devices with Controlled and Extended Therapeutic Release
Smart Implants