Undergraduate Programs
Undergraduate Programs
Electrical & Computer Engineering Undergraduate Programs & Curriculum


Bachelor of Science (BS) in Electrical & Computer Engineering                      back to top
The ECE Program provides a strategic balance of depth and breadth in topics appropriate to the areas of Electrical and Computer Engineering as articulated by the Institute of Electrical and Electronic Engineering (IEEE) in their program criteria developed by the Accreditation Board for Engineering and Technology (ABET: www.abet.org). Our program provides a foundation of mathematics, sciences, and the humanities, combined with engineering topics. However, what sets Rowan ECE program apart is its hands-on, real world project-based technical curriculum, where every class includes a laboratory component, with its hallmark Engineering Clinics.

The BS in ECE program consists of 128 credit, and consists of the following components:
22 credits of Engineering Clinics for project-based design and entrepreneurial clinic consultant experience
16 credits of Math core + 22 credits of physical, engineering and computer sciences
18 credits of general education
50 credits of ECE core and electives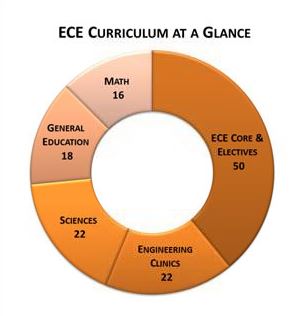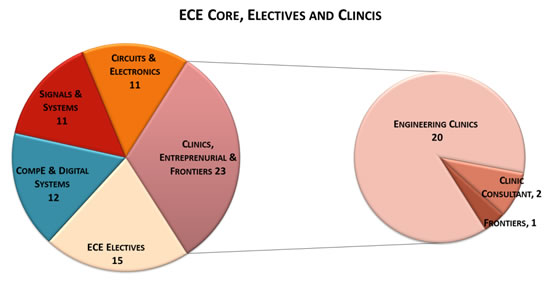 For a detailed curriculum, see the following:
5-Year BS/MS Program & Senior Privilege                                                          back to top
Completing a Bachelor of Science degree program in four years, followed by the Master of Science program in one year, is possible, particularly with the Professional (non-thesis) track. To do so, you can take 12 credits of graduate-level courses in the Fall, another 12 credits in Spring, followed by 6 credits in Summer.
If you are in good standing by the time you reach your senior year, with a GPA of 3.0 or higher, you can also take advantage of Senior Privilege. Senior Privilege is a unique opportunity that allows you to take up to 6 credits of graduate-level courses during your senior year, pay the lower undergraduate tuition for them, and have them counted towards your undergraduate BS degree requirements. Then, assuming that those classes are required by the MS degree program, you can transfer those credits to your graduate MS degree program requirements. As a result, you only need to take 24 credits of graduate programs after you complete your undergraduate degree, saving you time and considerable tuition costs. With only 24 credits left, you can complete those 24 credits by taking 9 credits in each of Fall and Spring, followed by 6 credits in Summer, or even, take 12 credits in Fall and Spring, and be done in less than one year!
To take advantage of Senior Privilege, you need to fill out the Senior Privilege Registration Request Form and obtain the necessary approvals.


Combined BS In Engineering/MBA Program                                                        back to top
Engineering students who plan to pursue a career in business should consider the combined degree program for obtaining a BS in Engineering and an MBA (Master of Business Administration). Students wishing to pursue the combined BS/MBA degree have several options and may be able to complete the MBA program in one year and one summer, depending on when the student wants to start the program.
Completion of foundation courses: Applicants to the MBA program must have completed appropriate courses in mathematics, economics, and various business areas. Some of these courses can be taken as part of the undergraduate engineering coursework while others can be taken during summers. Planning is the key: Once admitted into the Combined Program, students are assigned an advisor from the College of Engineering to assist them in designing a program of study to meet their needs. In the senior year, an additional advisor is assigned from MBA program.
BS in Engineering/MBA Guidelines
Students who wish to enter the program during the freshman year should notify the Associate Dean of Engineering by March 1 of the year they wish to begin the program.
Engineering students can be conditionally admitted to the MBA program as an incoming first-year student or at any time during their undergraduate programs.
Formal acceptance is granted after they meet all the standard MBA admissions requirements, which are:
A minimum undergraduate GPA of 2.5
A minimum Graduate Management Admission Test (GMAT) score of 450.
A total of at least 1050 points based on the following formula: (GPA * 200) + GMAT score > 1050. An additional 100 points can be awarded for approved managerial work experience.
Completion of required foundation courses before starting the MBA Program.
The engineering degree is granted upon completing all requirements at the end of senior year.
The MBA degree is granted upon completing all requirements with a grade point average of at least 3.0 in the MBA courses (the work toward the MBA degree can be pursued as a part-time or full-time student).
Interested students should contact the Vice Dean of Engineering at
856-256-5300

Minor in Systems Engineering                                                                              back to top
The previously offered Systems Enigneering Concentration has now been expanded and upgraded to Minor in Systems Engineering. The Minor is designed in collaboration with industry experts, and its two flagship courses, Introduction to Systems Engineering and Model Based Systems Engineering are regularly taught by experienced high-level systems engineers and executives in major area engineering companies to provide a unique industry perspective.
The Minor in SE requires 12 credits of required courses as 12 credits of electives as follows:
Requried

Take both of the followins

ECE 09.421 Introduction to Systems Engineering*
ECE 09.427 Model Based Systems Engineering*
Then, take one of the following
ENGR 01.411 Introduction to Engineering Optimization; or
CS 06.390     Introduction to Systems Simulation and Modeling; and
...and one of the following
MKT 09.375 Business Logistics**
MIS  02.325 Project Management;
Electives
Take any four approved electives. Some electives can be counted both towrds the ECE Major and the SE Minor. For additional details, list of approved elecrives, and more information, please see the dedicated Minor in Systems Engineering page.
* ECE students cannot double count these two required courses both towards the ECE electives and towards the SE Minor requirements at the same time. ECE students taking these two courses for Systems Engineering Minor must take another set of (five) ECE electives towards the degree requirements. However, the ECE electives taken for the Systems Engineering Minor, can be used to satisfy both the SE Minor and the ECE degree requirements
** Business Logistics class has a prerequisite that will be waived for Engineering students. Please go to the Marketing Department chair and request the prerequisite override.
Certificate of Undergraduate Studies in Combat Systems Engineering               back to top
In collaboration with Lockheed Martin Company, the ECE department is now offering a new certificate program, called Certificate of Undergraduate Studies (CUGS) in Combat Systems Engineering (there is also a Certificate of Graduate Studies (COGS) in Combat Systems Engineering (CSE), described in the Graduate Studies section of our website). These certificate programs are intended to help develop the growing workforce needs of the area's prominent defense industry. In fact, all classes are taught in cooperation with Lockheed Martin engineers. Active participation and successful completion of this program can certainly increase your chances of getting one of those highly sought-after and well-paying defense industry positions. This program is most closely aligned with electrical and computer engineering topics, and therefore offered by the ECE Department. However, it is open to any engineering student who has an interest in the field. Non-ECE students should pay close attention to the prerequisites of the classes in this CUGS. 
 The four courses in CUGS are
ECE 09.423           Introduction to Radar Systems (prerequisite: ECE 09.341 Signals & Systems)
ECE 09.424           Introduction to War Gaming and C4ISR (Prerequisite: Senior standing)
ECE 09.425           Introduction to Command and Control (prerequisites: ECE 09.321

or

ME 10343)
ECE 09.426           Introduction to Weapon Systems (prerequisites: MATH 01230

and

PHYS 00220)
Note that the university rules allow up to two classes in a CUGS program to be counted towards graduation requirements of the associated major degree.
ECE Students: Of these four classes, two of them – ECE 09.423 Introduction to Radar Systems and ECE 09.425 Introduction to Command and Control – will count towards ECE BS degree requirements, whereas the remaining two classes, ECE 09.424 Introduction to War Gaming and C4ISR and ECE 09.426 Introduction to Weapon Systems need to be taken in addition to all other regular ECE requirements.
Non-ECE students should check with their departments and advisors.


Minor in Electrical and Computer Engineering                                                     back to top
The Minor in Electrical and Computer Engineering (ECE) offers students majoring in disciplines other than ECE the opportunity to become familiar with principles and design practices used to meet the multidisciplinary needs of modern technology. The ECE minor provides undergraduate students from mathematics, the physical / chemical / biological / computer sciences, and the other engineering disciplines the required background to broaden their scientific and engineering knowledge in ECE, as well as for pursuing graduate work in ECE at Rowan or elsewhere.
ECE Minor is a popular program and admission is restricted to qualified applicants. Admission requirements include approval of department head, completion of appropriate math courses, and a minimum GPA of 3.0.
Applications are accepted as follows: Sept 1 - Nov 1 for Fall admission; and Jan 20 - Apr 1 for Spring admission. Any exceptions must be approved by the Dean's Office. 
For additional details, course / graduation requirements as well as application information, please see our dedicated Minor in Electrical and Computer Engineering page. 

Other Minor Opportunities for ECE Students                                                             back to top
ECE Students can choose from a long list of disciplines that offer a Minor option. Obtaining a Minor typically involves taking a set number of additional courses, determined by the department offering the minor, and once completed the Minor is indicated on your transcript. For ECE students, getting a Minor in certain disciplines is easier than others, because some of the courses required by the ECE curriculum can be counted towards the Minor in those disciplines. The most popular Minor options for ECE students are Computer Science, Mathematics, and Physics. The requirements for these Minor options can be found in the links below. However, since the departments can change the Minor requirements at any time, and/or change the links to relevant information, please make sure to contact the relevant department and talk to an advisor in that department before you embark towards a Minor.
Requirements for Minor in Computer Science
Requirements for Minor in Data Analytics (note CS 07.455 amd ECE 09.455 are cross-listed)
Requirements for Minor in Mathematics
Requirements for Minor in Physics
Minors are also available Chemical Engineering, Civil & Environmental Engineering and Mechanical Engineering. For additional information, please see the following links.
General information on engineering minors
Online form for applying for a minor in engineering (use this form to apply for any of the minors in Engineering)