Facilities, Capabilities & Virtual Tours
Facilities, Capabilities & Virtual Tours
Facilities and Capabilities
At Rowan ECE, we provide cutting edge facilities and equipment to our students and students do not wait until senior year or until they become graduate students to use top-of-the-line and modern equipment and instrumentation. How quickly do you get to learn and use them? How about day 1? You will take at least two classes, Introduction to Digital Systems and First-Year Engineering Clinic I during your first Fall semester, both of which will introduce you to some very cool equipment. Of course, one of the perks of being an ECE is that you get to play with really cool "toys".
Furthermore, we believe that reliability in measurements is of paramount importance in ECE, and therefore - unlike most EE and CE programs - Rowan ECE program calibrates all of its instrumentation and measurement equipment every year.
On this page, you will see a description and virtual tours of many of labs and other facilities. If you are in a hurry, however, let's start with "Tour of ECE, ...in a hurry."
Welcome... from The Bridge 
Let's start our tour from The Bridge, the unique structure that connects two buildings of the Rowan Engineering Complex: Rowan Hall (our former home) and Engineering Hall (our brand new home).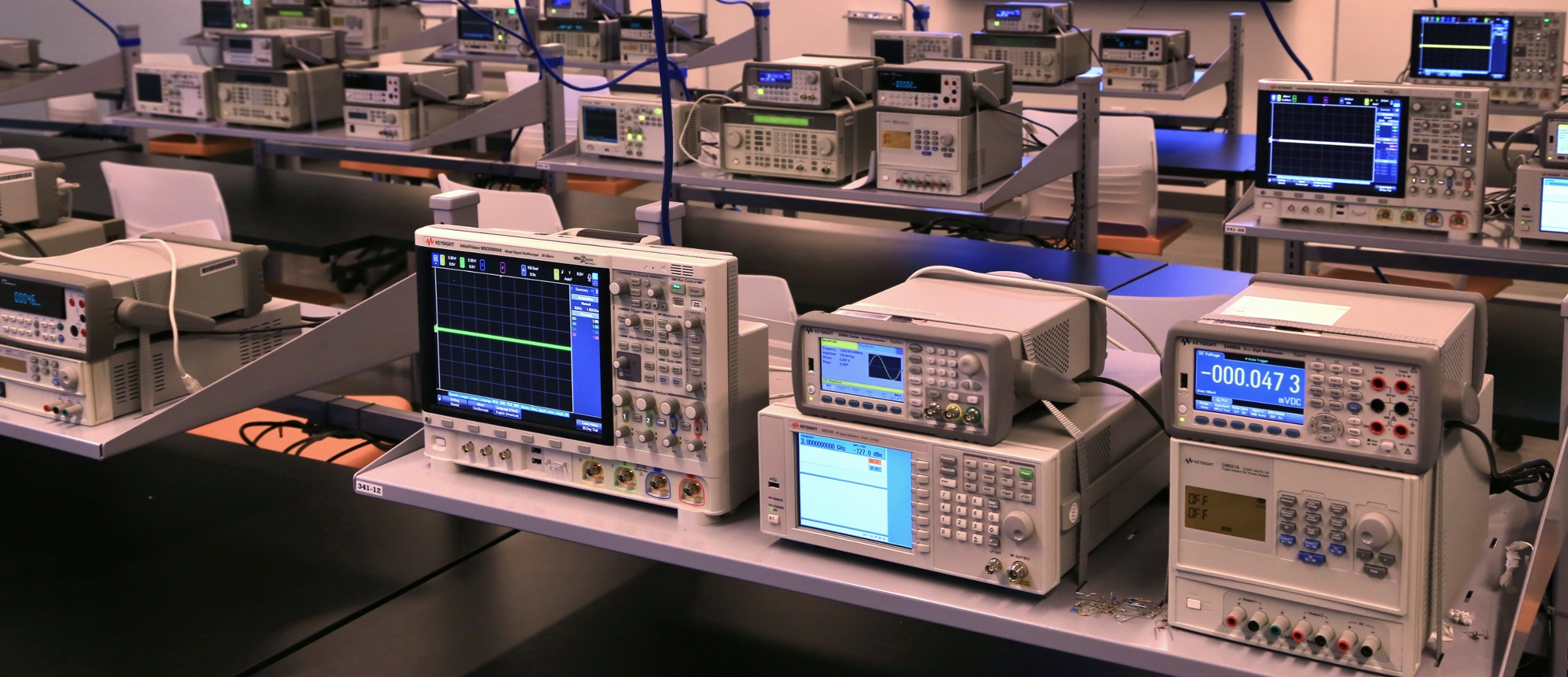 A unique feature or ECE labs is that they provide a combined lab/lecture environment, allowing a seamless integration of lecture, experimentation, and collaboration. Let's take a tour of these unique integrated lecture-lab spaces.
High-Frequency Systems and Telecommunications Lab
Our newest lab consists of high-frequency, high-bandwidth and high-end devices, and serves our telecommunications, electromagnetics, RF electronics, optical communication classes. The lab features 6.5 GHz full-function desktop network analyzers, 3GHz spectrum analyzers, hand-held network analyzers, 6GHz scopes with full protocol analysis functionality, 3GHz RF signal generators, as well as digital multimeters, power supplies, and other cool toys.
Circuits and Electronics / Mixed Signals Lab
This lab provides 12 identically configured lab stations (one station for every two students), featuring new 100MHz scopes, signal and arbitrary function generators, digital multimeters, and power supplies. Also included are LCR meters, soldering stations, and other useful equipment, such as curve tracers. The lab serves the basic circuits and electronics classes. 
Signal Processing and Control Systems Lab
The lab also features 12 identical lab stations that include 100 MHz scopes with function generators, digital multimeters, power supplies and computers. This lab also allows students to understand fundamentals of signal processing through an application with which we are all intimately familiar: audio. The Department also provides synthesizers, audio mixing and analysis devices and software for any student interested in audio applications. As in other labs, soldering stations and other relevant equipment are also available. 
Computer Architecture and Embedded Systems Lab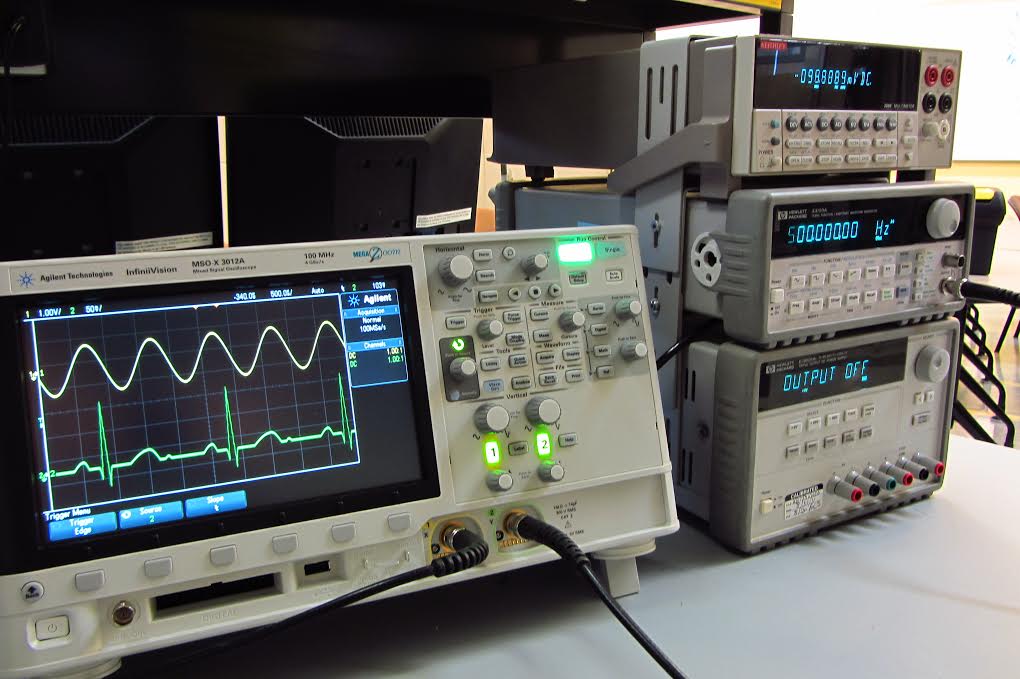 Used primarily for the computer engineering part of our curriculum, Computer Architecture and Embedded Systems Lab feature 12 identically equipped workstations featuring brand new high bandwidth 1GHz scopes that include all the digital communication protocols, logic analyzers, as well as function generators. The lab also features digital multimeters, power supplies,  FPGA design, development and simulation kits. 
A unique facility for ECE Department is our Rapid Prototyping and Fabrication Laboratory (FabLab). It is equipped with everything you need, including manual, semi-automatic and fully automatic pick & place machines, stenciling, reflow oven, milling machine for printed circuit board layout and design. A variety test and measurement equipment are also available to test, verify and evaluate your design. And, of course, no such facility would be complete without 3-D printers.  You can use these links for 3D printing requests as well as to request to use the assemble / rapid prototyping / fabrication equipment.
All shared resources, parts, supplies, cables, everything you can possibly think of for building your ideas are available at the ECE Resource center. Stocking over a million different parts, chances are you will find what you need here. ECE Resource Center is staffed with our technologist as well as student workers who are here to find you the part you need and answer any question you may have. To make it even easier to find what you need, visit the ECE Resource Center page (login needed), where you can see our inventory and how to order parts and components (login required). 
Clinic and Research / Project Labs 
The hallmark of Rowan ECE is of course our Engineering Clinic sequence - an 8-semester sequence that allows you to work on increasingly challenging, real-world, unsolved problems. Come and see some of our clinic and project labs in this video.
Classrooms
Being a hands-on, project based program, most of our courses are held in combined lecture-lab rooms that we call teaching labs... But a few courses are held in lecture rooms, but even our lecture rooms are anything but ordinary. Watch this short video to see our "largest" class room, which only seats 40 students. Most ECE courses are capped at 24-30 students.


Rowan University has recently partnered with Cadence Design Systems, all information about this program can be found at our Cadence University Program website.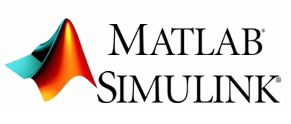 Rowan now offers the student downloadable full MATLAB suite (including Simulink) to all students on campus — you always get the latest release. 
Also available are several additional software suites, including SolidWorks, CreativeCloud, etc.